Non-residents must have a Black Bear Hunting Licence and a Validation Certificate. They must also complete a hunting report that comes with the Certificate and return it to the issuer of the Certificate. Permits (#4 above) are required to export from Ontario any part of black bear.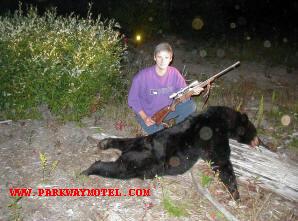 Black Bear Hunting
The over abundance of black bears in the Wawa area make this region a paradise for hunters. Our local guides enjoy a greater than 80% success rate. The majority of bears harvested weight between 350 and 450 pounds.
The picture shows successful Black Bear hunt (420 lb.) with the help of local guide Rick Dickson.

Moose Hunting
Another very popular hunting pastime in the Wawa area is Moose hunting. It's well worth entering your name into the draw.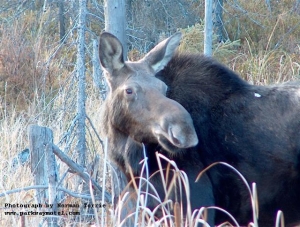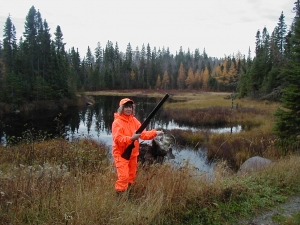 Grouse Hunting
This relaxing sport allows an opportunity to enjoy the beautiful scenery while taking long walks in the quiet wilderness of Northern Ontario. If you seek an extra challenge you can substitute a 22 caliber rifle for your shotgun. Grouse hunting is medicine for the body and soul.