HIKING DURING SUMMER
In Wawa there are unlimited hiking opportunities. We have Crown land and Provincial parks with trails long or short with breathtaking views. Don't hesitate to ask us or see the links below.
Please click here to see Trials description provided by wawa.cc
Voyageur Trail
Michipicoten Post Provincial Park/Driftwood beach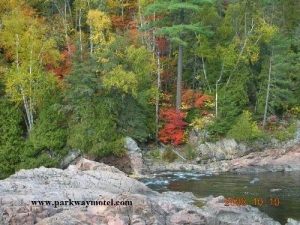 FALL COLOURS


The fall offers spectacular leaf colours changes to mark the changing seasons.
NOKOMIS TRAIL
Our favourite hike is the Nokomis trail, located at Old Woman Bay, 15 km or 10 miles south of the Parkway Motel. Nokomis is available all year round, in winter snowshoes are needed. See for yourself how the scenery changes from summer to winter.
SNOWSHOEING/CROSS COUNTRY SKIING
Don't let the snow keep you indoors! Nothing can match the beauty of a fresh snowfall! You won't regret getting outdoors and enjoying the quiet woodlands and bright sunshine!